Colour Dinner
Our final "One world Table Feast" at Kellinghusenspark Hamburg/Germany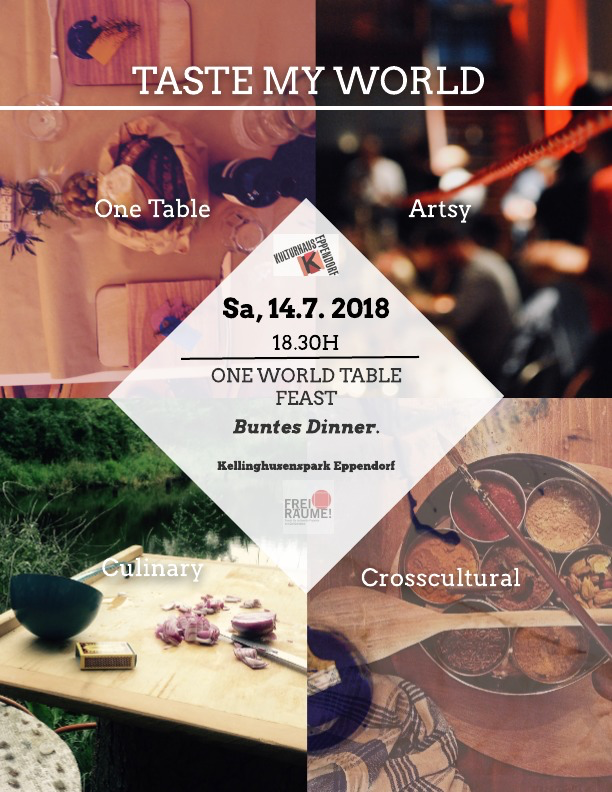 Saturday 14. July 2018, 18.30h
Colour Dinner! Bring and share at one table :)
Finally its all about sharing and celebrating together! This feast will bring it on.
At our Colour Dinner we are inviting you to share ur favorite meal with others accompanied by music and artsy inspiration from various backgrounds. 
Pls. bring: your favorite dish, sth. to drink, a poem, ur friends and strangers :) 
Optional: raw fruit and vegetables, a blanket
Dresscode: colourful
What to expect: a colourful dinner, music, arts and tasty encounters
Everybody is welcome! ❤
Free Entry 
Location: Kellinghusenspark Eppendorf; U-Bahn Kellinghusenstrasse 
Adress:
Kellinghusenspark Hamburg 
Access via Eppendorfer Landstrasse or Entrance Kellinghusenstrasse 
20251 Hamburg
In case of rain the feast will take place at Kulturhaus Eppendorf.
Kontakt/Contact: Kulturhaus Eppendorf e.V. / 040-481548 /www.kulturhaus-eppendorf.de
Mail: info@kulturhaus-eppendorf.de 
Kindly sponsored by: FREIRÄUME! Fonds & Bezirk Hamburg Nord

Partner/ Support: Bundjugend, Hamburgprojekt, Joshua's Kitchen Ottensen, One Kitchen Grindel, RHO Kombucha 
Open Access/ No Reservation needed.
A culinary & artistic project by Sarita Dey, presented by Kulturhaus Eppendorf.